THE TRICHLOROACETIC (TCA) PEEL

Targets deep wrinkles & scars

Improves and lifts sagging skin

Helps even out texture issues

Addresses uneven skin tone and discoloration

Trichloroacetic Acid, often referred to as TCA, is an effective chemical agent used to exfoliate and renew the skin on a superficial to deep level. TCA is commonly applied to the face, neck, décolleté, hands and legs. In addition, TCA is also an excellent "spot treatment" and can be used to exclusively peel isolated areas of the skin.
The benefits of superficial TCA peels are many, but among the most notable is the ability to adjust the depth to fit the skin problem. As more coats are applied, the peel will get deeper, as the solution goes looking for protein to neutralize itself. The long-lasting results make it an ideal peel for those who prefer less peeling sessions at the cost of moderate downtime.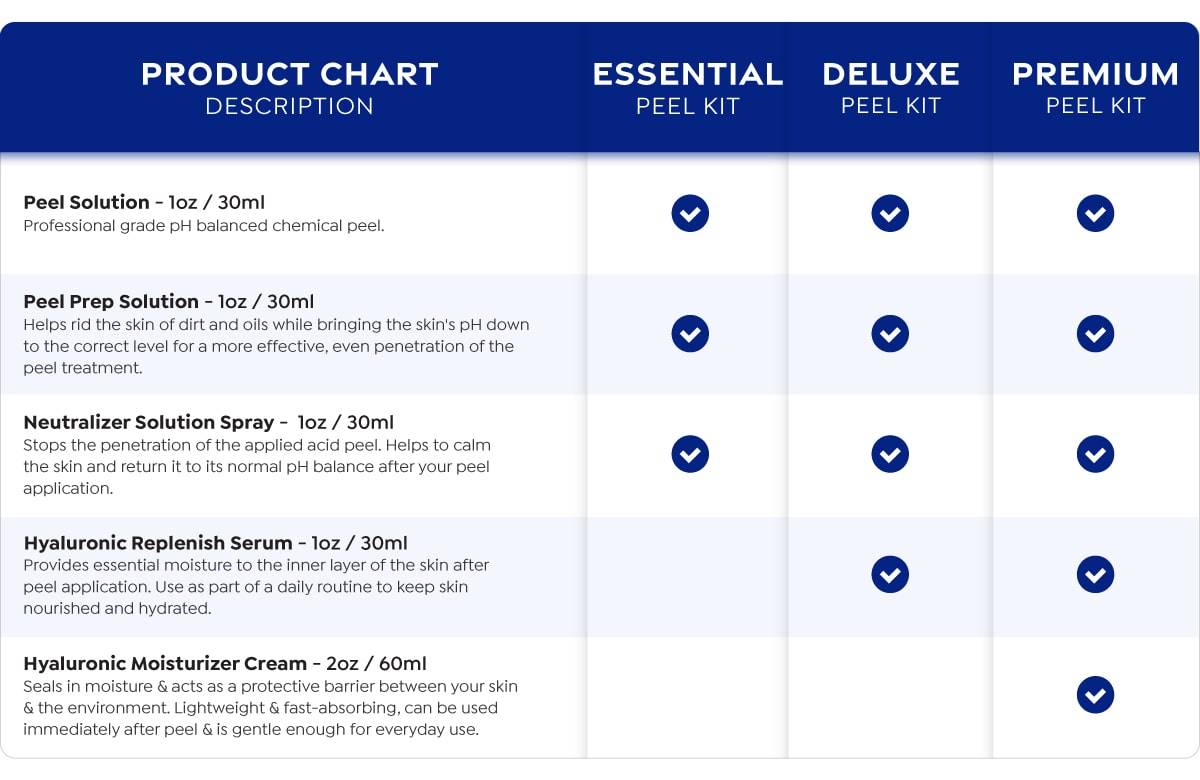 WHAT TCA PEEL USERS ARE SAYING

"My face looks softer, smoother, no more wrinkles and fine lines. I just love it! It's SUPER!!!"
- Suzy

"Left my skin soft, renewed, and plumper. Easy to follow instructions, kit contains everything. Great deal and super results!"
- Mkella

"Excellent quality peel! My skin is happy! I really trust this company, and surprised with the results!"
- Sonechko
With use of this peeling solution, your skin may become red and powdery white a "frosting" may appear on the skin during application. In some cases, the skin will have a temporary anesthesia or numbing effect. The skin may appear red or dark for several days while recovering from the peel. Your skin should begin to balance out within a few weeks.
Available Strengths for TCA Peels:
10 – 20% (Downtime will vary based on selected percentage solution)
Skin Type:
Trichloroacetic is generally safe for most skin types particularly normal to oily, sun damaged, dull, and uneven skin. Sensitive skin should progress product potency over time. Higher strengths of TCA peels (20%+) are NOT recommended for darker skin tones due to increased risk of post-inflammatory hyperpigmentation.
Standard Benefits:
Improved skin tone, texture and clarity. Reduction of acne, clogged pores, scars, wrinkles and fine lines. Increase in collagen and elastin production. Trichloroacetic Acid is also beneficial for gradually removing unwanted freckles, tattoos and scars.
Maintenance:
Maintain long-term results of a Trichloroacetic Peel with regular use of MedPeel's Anti-Wrinkle Collagen Activator Serum as well as habitual use of SPF 30 or higher.