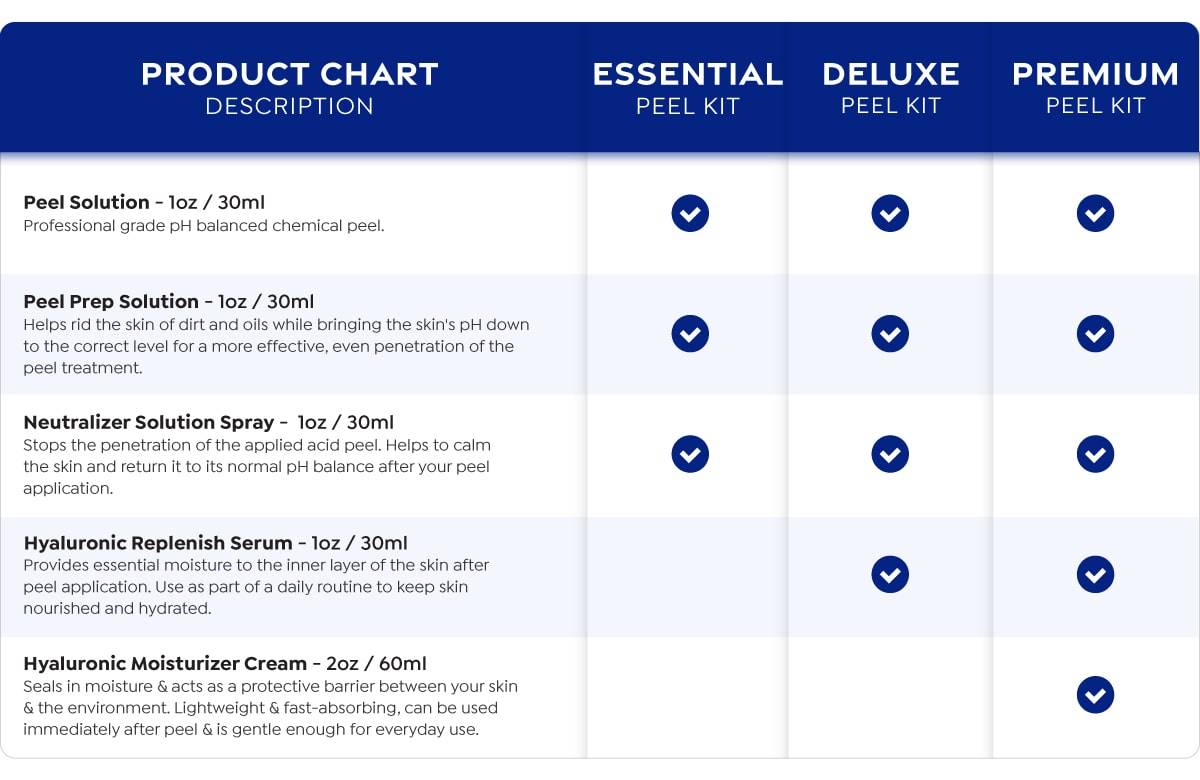 Combats oil and clogged pores

Smooths rough skin and evens texture

Reduces fine lines and wrinkles

Evens skin tone and discoloration

The Alpha Beta Peel is a full spectrum peel because it combines an application of Beta Hydroxy Acid (Salicylic Acid) followed with an application of Alpha Hydroxy Acid (Glycolic Acid). Research shows that applying Salicylic Acid before applying Glycolic Acid will cause the Glycolic Acid to penetrate the skin more deeply - resulting in a totally unique and highly superior facial peel.
For those suffering with an acneic skin condition, the alpha-beta peel is the ultimate "golden ratio". By combining the individual powers of glycolic and salicylic acid, a new and truly effective form of exfoliation has been developed for those troubled with acne vulgaris. As glycolic acid goes to work on the skin's surface by evenly exfoliating superficial dead skin and debris, salicylic acid is then able to fully penetrate into clogged and oil-laden pores. The two-step technology of the alpha-beta peel is an ideal system for acne-sufferers!
WHAT ALPHA BETA PEEL USERS ARE SAYING

"Great product. I just tried it today and I could see that my pores are shrinking like crazy and my face appears brighter. Plus, the peel made my skin texture smooth and soft. Love the product and would love to purchase again."
- S from NY

"This medium peel is very effective and powerful! Afterwards your skin is tight and clear. Several days later (4-5) my skin begins to peel for 2-3 days. Then you are left with softer fresh skin! This peel is a great value for the price! Get it!!"
- Dawn
ALPHA BETA PEELING PROCESS
With use of this salicylic and glycolic acid combination, your skin may become red and powdery white "frosting" may appear on the skin during application. In some cases, the skin will have a temporary anesthesia or numbing effect. Breakouts may occur after peeling due to the pores cleansing and bringing debris to the surface. Your skin should begin to balance out within a few weeks with less oil, breakouts and a smooth soft texture (varies based on strength selected).
Alpha Beta Face Peels Available Strengths:
2 – 70% (Downtime will vary based on selected percentage solution)
Skin Type:
The combination of Alpha Hydroxy Acids and Beta Hydroxy Acid is good for normal, oily, combination and dry skin. Sensitive skin should progress product potency over time.
Alpha Beta Standard Benefits:
Reduction of oily skin, clogged pores, blackheads, whiteheads, papules and oil production. Smoother, firmer skin with a more even tone and minimized discoloration.
Alpha Beta Maintenance:
Maintain long-term results of a Alpha Beta Peels with regular use of Alpha Beta Daily Exfoliator set, followed by use of Hyaluronic Replenish Serum twice daily as well as habitual use of SPF 30 or higher.
THE FITZPATRICK SCALE FOR YOUR SKIN TYPE